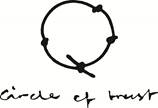 The brand the way we think
The name Circle of Trust comes from our logo. The knotted circle stands for our overall vision and the commitments we make as a fashion brand. The first knot stands for the responsibility to make choices within our company. These choices are based on experience, trust and courage. This goes hand in hand with our second knot, which reflects consciousness. Circle of Trust seeks to contribute to its surroundings by creating clear and respected business relationships. These relationships are reflected within the third knot. The fourth knot brings it al together and reflects the overall vision.
The overall vision of Circle of Trust stands for: responsibility, consciousness and equal relationships. With these values we like to make a promise to our customers and business relations. Our goal is to enrich you with the world of Circle of Trust. Together we can tie the knot and make it a full Circle!
What you need to know
Circle of Trust is a Dutch fashion brand, founded in 2005. Within our world you will find a combination between denim and apparel. Our mission is to create variable, unique and affordable denims, wearable for everyone. Highlighting the beauty of washed denim is our main focus within our collections. We are known for our cool and trendy style, perfect fit and beautiful details for an affordable price. We maintain our Dutch roots within our company, working with around twenty employees we create over 300 selling points in the Netherlands. Besides The Netherlands you can also find our brand within several stores trough Europe. Our aim is to achieve an internationally fashion brand.
Since 2014 we translated our brand identity into an inspiring retail experience: The Circle of Trust Concept Store based in the city centre of Amsterdam.
Within our concept, four core values can be found.
First of all, we aim to create an approchable and cheerful atmosphere. Second of all, our collection reflects our down to earth mentality and includes a casual tone. These four values represent our chracter, mentality and expressive style.
We stay true to these key values within our concept. By focusing on these values we maintain a strong brand identity.

Circle of Trust FW17

Circle of Trust SS17